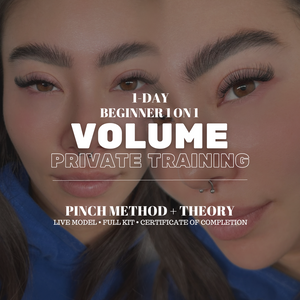 Hey love! Are you ready to learn how to make your own volume fans without the use of easy fans? Then this training is for you! This is a 1 DAY (10am- 5pmish) training that I will train you in learning the important FOUNDATIONS of VOLUME lash extensions, creating volume & mega-volume fans using .03 lash extensions, application, tips/tricks, 2 of my most used lash style lash maps, and how to work with layers (spikes map is NOT included).
This 1 on 1 training is for Beginner VOLUME training .
TOTAL PRICE: $1,250 AFTERPAY IS AVAILABLE AT CHECKOUT
Deposit: $450 (due now) $800 (due the day of training) in cash only.
What is included:
• Sponge Practice (fan practice before live model) 
• Live model (which will be provided by me) which you have the option of watching me perform an entire full set on the model (shadowing me) and or complete the full set yourself with my assistance (or we can do both).
• Full lash kit for your first 25+ clients which include everything I personally use and what you'll need for applying and making volume lash extensions (lash table and light not included).
• Take-home Manual: we go over the entire manual which includes in depth material of everything you need to know about volume lash extensions.
Includes; in depth description of lengths, curls, diameters, proper isolation, adhesive types/tips, importance of humidity/temperature control, high quality materials/products, branding, wholesale apps, photography tips, pricing, fellow lash products recommendations, aftercare protocol, sanitation, allergens, lash maps, different eye shapes/lash curls and much more. 
• Certification of completion: please put your full name at checkout on how you want it printed on the certificate
***Please be advised that a NON REFUNDABLE deposit which is the amount listed above ($450) is required at checkout in order to secure your spot. 
1 on 1 trainings can NOT be rescheduled. So please make sure you can make it to this training BEFORE paying the deposit. Remaining balance of $800 is to be payed in cash on the day of your training. Any other form of payment is NOT accepted.